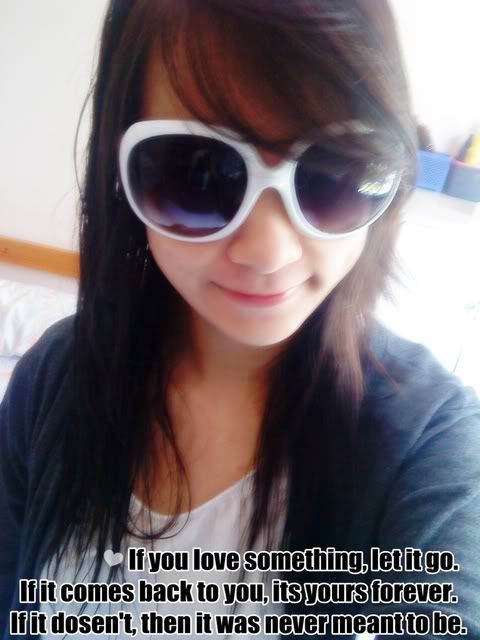 Love is a temporary madness. Its erupts like a earthquake and then subsides. And when its subsides, you will have to make a decision. You have to work out weather your roots have become so entwined together that it is inconceivable that you should ever part. Because this is what love is. Love is not breathless, it is not excitement, it is not the promulgation of promises of eternal passion. That is just being "in love" which any of us can convince ourselves we are. Love itself is what is left over when being in love has burned away and this is both an art and a fortunate accident.
♥
My blog is collecting dust again :/ Sorry for the late update! :( Been busy hanging out with friends and heading to work. And thats leads to less update of post here. These few days have been accompanied by girlfriends and family, my pretty cousin :) Out to work with the accompany of my cousin, was great . All we do, is play games from her Ipad. :) Headed to meet Sly the other day to get back my stuffs , and headed for dessert with her too! :)
While working, I headed to Forever 21 to get the same necklace with Cousin, chio ttm :) & she make a fool out of herself. Touring me round 313 for her Long John Silver which just located at Basement 1. Went Tampines with her yesterday too. Wanted to get a bag, but it was sold out. So headed to Swensens for our later lunch.
The other last week was spent with Baby, Rosanne & her friends. After a long day out at Aunty Doris's crib, headed home to change, and headed down to her place, and we walked to somewhere near Ecp. Slacked with her friends till morning :) Met up with Charles Awesome Brother the other day too. :)
Some words are meant to be hidden. Maybe one day, you will know how much you meant to me. This time, it's different. Everything changed. I'm no longer the one, you know. This love of yours change me. All its matters, as long as you are happy.