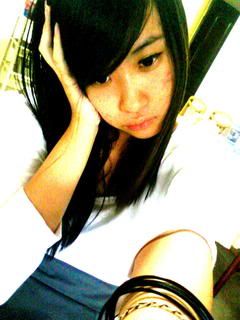 Baby, I miss you. Where have you been ?! ):
Out for dinner w Charis Dearest & her boyfriend at Hougang last night.
Have much fun chatting and have fun w them (: They accompanied me to wait for Baby!
Much appreciated . But I decided to wait for Baby downstairs his house.
Finally he came back from his course. Went over his place, cabbed home in the morning.

Baby was quite angry w some of the matters. I was angry too. He asked me not to interfere in this matter. He will settled this as soon as possible. Was still angry with that girl. Deleted this part, everything is settled. Baby settled as promise to me. Love him deep deep.

Nevermind, he knows how much I love him. Others don't need to know. :B


Well, enough of her. If Baby gets to see this, means, I'm dead. She only know how to made me moody only . I miss babyyyy ! ): He has no voice already. Feel like cabbing down and take care of him. But he has work tmrw. Awws. Xintong sials :(