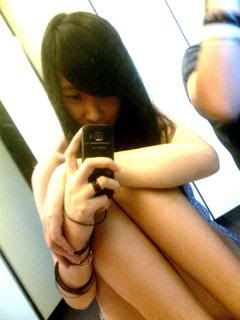 HAPPY BIRTHDAY JOANNE :D
Back from Bugis & Vivo already. Met Twinlove today, roamed around Illuma & Street.
Had early dinner w her at Junction. Headed to Vivo to look for Yvonne & slacked at her workplace. (: Headed home after that . :D

Baby is out sailing for two days. Awws. I will miss him ders. You better take care of yourself when I'm not around okay ! Remember to eat medicine and the sweets that I brought for you :)
Love you very much.

The first song in my playlist reminds me of how much I miss you as it's just continue till the song ends. ): BIBI, WO HEN XIANG NI ! ):

Ending w my photos.
I COULD EASILY FAKE A SMILE, TELLING EVERYONE I'M FINE.
( Edited on 3.00am )
I'm effing hungry now. No food to eat also. Am on the phone w Kelvin now. He was updating his happening lifestyle to me now. Super funny seh . HAHAH ! Like too long never talk to him already. And off to msn to talk to Charis already :B

(Edited on 2.33pm )
Kup phone w Kelvin at 6am! He is trying his best to come out w lame jokes to made me laugh.
Freaking damn lame can. Only know how to talk cock w me. All the topics are damn random. I swear I will laugh till I want to cry already.

& meeting Dearest later ^^